TAKE THE NEXT BIG MOVE IN CAREER
Global Programs at your doorstep
Post Graduate Diploma In Supply Chain Management (PGDSCM)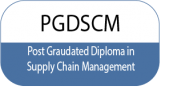 This unique PGDSCM program provides an excellent opportunity for vertical growth in Supply Chain. Advance your career with certification of Postgraduate Diploma in Supply Chain Management (PGDSCM) in Bangladesh. ISCEA Bangladesh offers the world's finest Supply Chain Management education program in Bangladesh. This PGD in SCM program provides the chance for advanced career growth. Through Our PGDSCM course, Students / Participants can increase their expected professional capabilities in different aspects of supply chain management.
Strategic Supply Chain Management
Sourcing Management
Manufacturing, Planning & Control
Materials Management
Logistics & Distribution Management
Supply Chain Project (Project Work)
Duration: 6 Months (3 Semester)
Classes & Lecturers
Our faculties are industry leaders in Supply Chain Management
Eligibility 
Graduates in any discipline from recognized universities and colleges. No age bars.
Enrollment
Admission is available throughout the year
Fees:
Standard Fees: BDT 75,000
Special discounted fees are applicable for ISCEA Bangladesh
participants. To know more about PGD Courses of SCM in Bangladesh, please contact
Supply chain professionals working in functional roles.
Organizations wanting to improve their competitive edge by providing their executives a holistic supply chain perspective.
Supply chain enthusiasts who wants to grow in career
ISCEA Continuing Certification Requirements
Your credentials with the ISCEA make you an industry expert. Therefore, ISCEA requires that all its certification holders participate in continuing education to keep up with ever changing global supply chain body of knowledge and practice. You have invested time and money to obtain the ISCEA Credential. It is up to you to protect your investment by renewing your certification with ISCEA every three (3) years.
WHAT RECENT PGDSCM ALUMUS SAY....
The circle is now complete. When I left you, I was but the learner. Now I am the master.
Darth Vader
Digital Overlord
If you end your training now — if you choose the quick and easy path as Vader did — you will become an agent of evil.
Yoda
Digital Master